Using a Hot Tub in the Summer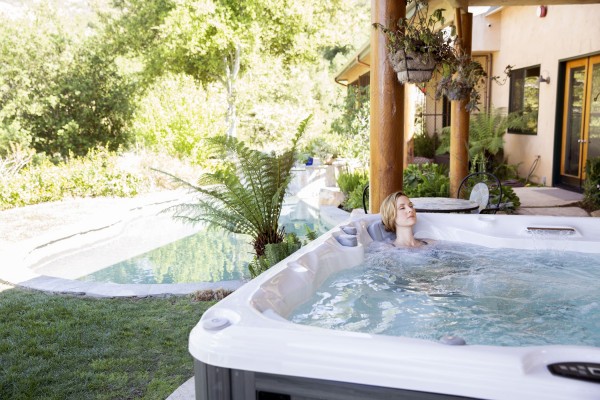 The sun is shining and the temperature is rising, you know what that means! Summer is finally here!
For many of us out there, summer time means splashing in the cool and refreshing water. If you're lucky enough to own a hot tub, or if you are considering purchasing one, you will be delighted to know that hot tubs work just as well during summer as they do in colder temperatures. It's all about your personal preferences and how you use your spa! Keep reading to learn about some of the best ways to use your Sundance® Spas hot tub this summer!
Turn Your Hot Tub into a Refreshing Cool Tub!
Hot tubs aren't just for the colder weather. You can also enjoy them during the hot summer days, too!
Hot tubs are not just great to face the cold weather. They will also help you enjoy the hottest of summer days. All you need to do is simply fill your Sundance® Spa with cold water! Simply turn off the heater or lower the temperature in order to benefit from a nice rush of cold water! Keeping the cover securely in place when the tub is not in use will certainly help you prevent the water from warming up throughout the days, and you can even use the water jets action to keep the water fresh for a long time.
Having the opportunity to relax and lay back in a refreshing tub every day during summer is an amazing thing.
It can help you feel like you are on holidays even if you decided not to travel and enjoy your home instead.
Use Your Hot Tub at Night
Looking to have a nice, relaxing soak in your Sundance® Spas hot tub? Try waiting until the sun goes down! Once the temperatures drop, you might find that it's quite comfortable to use your hot tub during late summer nights for ultimate relaxation.
If you have kids, you probably already understand the need to relax after a summer day full of activities. Running around and spending quality time with your kids and family is an amazing experience, but it might strain on your body after an entire day out in the sun! All the more reason to immerse yourself into the crystal-clear water before bed.
Not only that, but hot tubs are also great for helping you prepare for sleep. Relaxing in the heat of the jet-driven water can help your mind unwind and release tension throughout your body. This can help you feel more comfortable, fall asleep quicker, and stay asleep longer.
Hot tubs can truly make a versatile and valuable addition to just about any home. They can be used year-round to provide numerous emotional and physical health benefits, not to mention they feel amazing too!
Feel free to get in touch with our experts at Backyards In Style today for more tips, ideas, and information about the best hot tubs in Anaheim, California.