Are Hot Tubs Safe to Use During COVID-19?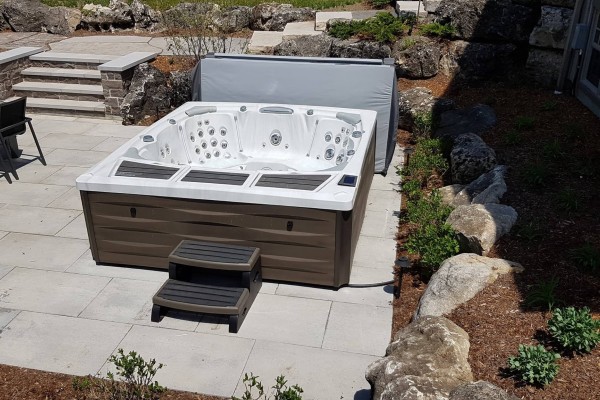 The COVID-19 pandemic has made a major impact on daily life for people the world over. But do you need to change your hot tub habits as a result? Let's take a look at the facts and best practices recommended by health experts.
1. Hot Tubbing with Family
If the only hot tub you use is the one in your own backyard, there is little to worry about — as long as you limit the use of your hot tub to your own household. Simply continue with your usual cleaning and maintenance schedule to keep your water clean and free of germs.
2. Using Your Spa to Kill Germs
Despite rumors to the contrary, immersing yourself in hot water doesn't kill or prevent you from catching COVID-19. Regardless of the temperature of your spa, your body temperature will remain stable. In fact, bathing in 104°F — your spa's maximum temperature — for a long period of time in an attempt to sweat out the virus can be dangerous.
The World Health Organization continues to recommend frequent hand sanitization as the best way to protect yourself from COVID-19. This, combined with social and physical distancing, is always your best bet for avoiding infection.
3. Using Your Spa for Stress Relief
Your spa may not be able to protect you from COVID-19, but it can help you relax during this time of increased stress. The spread of the virus has impacted daily life from social interactions to careers to school.
So, it's no surprise that most people are dealing with more stress than usual. Your spa is the perfect place to seek some relief. The heated water and jet massage can ease muscle tension while upping your body's endorphin production. This hormone is great for easing stress, improving your mood and relieving pain.
4. Social Spa Use at Home
If you do want to have extended family or some friends over for some spa time, the California Department of Public Health is suggesting that you do so cautiously. Currently, gatherings of more than three households (including the host household) are prohibited.
If you choose to have people over for a hot tub party, it should always be people from the same two households. Spending time with the same people helps to lower the risk of transmission. Keeping the gathering strictly outdoors is also recommended.
5. Public Hot Tubs
While you may shy away from using the hot tub at your gym or local spa, the Centers for Disease Control and Prevention (CDC) have said there's no evidence the virus can be spread to humans through the use of recreational waters, especially when treated with chemicals to reduce and eliminate bacteria and viruses. Following safe spa practices along with social distancing and frequent handwashing continues to be the best way to protect yourself.
It's also wise to speak to the operator of your gym or spa to find out what protective measures have been put in place.
The CDC recommends all operators of public hot tubs clean and disinfect them daily. Surfaces such as handrails and doorknobs should be cleaned after each patron's use and indoor hot tub rooms must have proper ventilation. If these guidelines aren't being followed, you may want to reconsider your use of that particular facility.
Backyards in Style
If you need the stress relief a home spa can bring, come see us at Backyards in Style. Our hot tub store not only focuses on providing quality products to our clients, we will always put your needs first. We not only have the best hot tubs for sale in Anaheim, but our staff is also second to none. So why not drop in at our showroom to check out the hot tubs and spas we have in stock? One of our experts would be happy to help you find the one that's right for you.