Create a Cozy and Stylish Spa Installation This Fall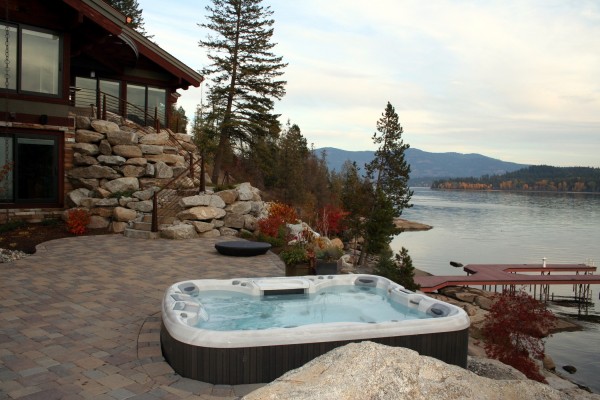 Why stop at decorating your home for fall when you can decorate your backyard too? There are a number of ways to bring an autumn feel to your spa, whether you have a standard 4-person hot tub or a small or large unit. Let's take a look at some of the easiest ways to spruce up your outdoor spa installation this fall.
Flowers
Fall hued-flowers will lend vibrancy to your backyard and hot tub. Choose some attractive planters and place them artfully around your spa. Setting one on either side of the tub's steps will frame the entrance perfectly.
When choosing flowers, make sure you pick a variety that is representative of fall. Mums are a perfect choice. Not only are they hardy, but they come in autumn tones of yellow, red and orange.
Other choices include sunflowers, which are great for the warm Anaheim weather, or helenium, which also come in red, orange and yellow.
Harvest Products
Once your flowerpots are in place, you can arrange different sizes of pumpkins around them, adding a little extra color. To really make the arrangement stand out, choose pumpkins in orange and white. Gourds add an extra little pop of colour. These can be arranged at the base of the pumpkins or in a tub of their own. Dried corn stalks can be tied to your spa or deck steps or arranged by a patio door. Another option is to use small hay bales to frame stairs or doorways. Try setting a flowerpot on each one and then arrange pumpkins and gourds around the base of the bale.
Metal
If you want to add a rustic touch to your backyard, use galvanized metal tubs and buckets for your flowers or make a fall arrangement of pumpkins and gourds. Metal lanterns are also in keeping with that theme. Try filling some with pinecones, mini pumpkins or a mixture of both and others with fall-hued candles. Large lanterns can be arranged on the ground while smaller ones can be used as a centerpiece for your patio table.
Throw Pillows and Blankets
As the nights get a bit cooler, adding some autumn-toned throws and pillows to your patio furniture is not only attractive, but also practical. Look for shades of gold, red or orange to add a splash of fall color.
Lights
To add a little sparkle to your yard, try stringing some twinkle lights around your patio or deck and add candles to your patio table. You can also use solar-powered lights to highlight walkways or focal points of your yard, such as your spa. Combining a few different types of lights will give your yard a magical, after-dark glow.
Backyards in Style
Need more advice on hot tub style? Our staff at Backyards in Style can help. As a provider of high-quality spas ranging from 2-person hot tub units to 6-person hot tub models, we can help you achieve the right look for your home. Drop-in at our Anaheim showroom or send us a message. Our expert staff is always on hand to help.