The Incredible Features of Sundance® Spas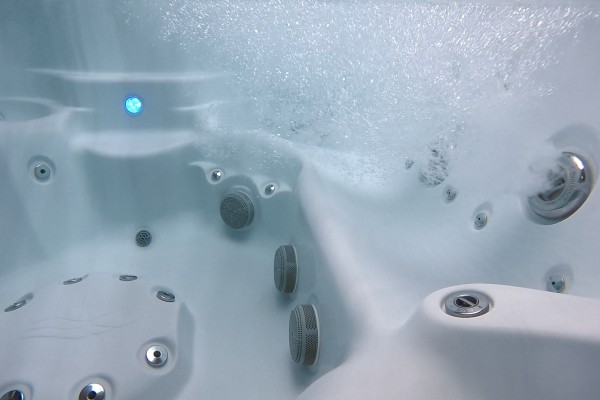 If you're thinking about buying a hot tub this year, there are a lot of things you'll have to consider. From size and budget to brand and model, there are many decisions to be made. To make your shopping experience a little easier, we have put together a list of the top features offered by Sundance® Spas hot tubs. With all that the Sundance® Spas brand has to offer, you really can't go wrong with any of their models.
1. Patented Fluidix® Jets
The Sundance® Spas brand truly sets the standard in the spa industry with its Fluidix® jets. Designed for customization, these jets offer everything from the lightest of touches to a deep tissue massage. Massage depth is set based on the force of air and water. The deeper you like it, the more force the jets use.
What truly sets these jets apart is their careful placement to ensure key pressure points are being targeted on the body. You can also choose from popular massage techniques and styles such as Swedish, Reflexology or Shiatsu, depending on which ergonomically designed seat you sit in.
To top it all off, these jets were made to go the distance. Rather than moving parts which wear out over time, Fluidix® Jets use fluid dynamics, ensuring you'll be able to enjoy your hot tub for years to come.
2. Intelligent Controls
Nothing makes spa ownership easier than intelligent controls. And that is just what Sundance® Spas gives you with its user-friendly control panel. The panel is illuminated for night use and allows you to easily alter jet pressure and temperature as well as regulate energy-efficiency. You can also lock the spa for safety with a simple tap of the panel.
Not to mention that this control panel is designed to be easy to use. The touchscreen technology enables the user to control the various features and total operation of the hot tub with ease, thanks to the nighttime illumination and simple interface.
3. Maintenance Made Easy
Indicator lights on the side of the spa enable you to check how your spa is functioning. The exterior indicator lights change color when your hot tub needs maintenance.
And, thanks to the quick release door, you can quickly access the drain and inner workings, making maintenance less of a hassle.
4. A Smart System
The Sundance® Spas SmartTub™ System is like having a virtual hot tub expert at your beck and call. After downloading the SmartTub™ app, the system can be accessed and controlled on the Smart devices of your choice.
One of the biggest benefits of this app, which is available for iOS and Android, is that it explains all of the spa's characteristics as well as how it operates, making spa ownership a breeze.
You'll learn how to care for and maintain your spa based on how often and heavily you use it and can use the app to update energy efficiency and temperature settings. It will also send you energy usage estimates and will notify you if your spa requires a service call.
Backyards in Style
If you're interested in learning more about everything Sundance® Spas hot tubs offer, come see us at Backyards in Style. We're Anaheim's top hot tub store supplying energy-efficient hot tubs. Whether you have questions or want to test out a specific model, one of our experts would be happy to help.