What are the Best 6-Person Hot Tubs?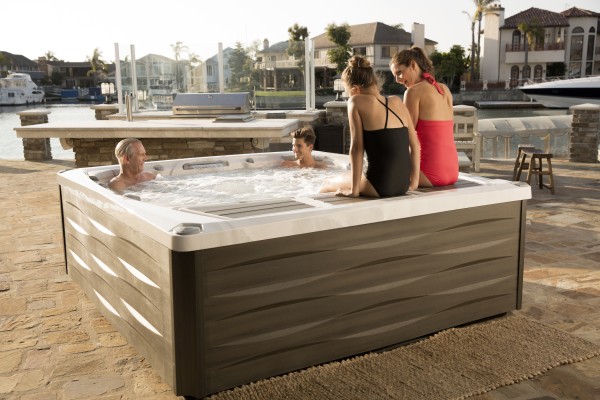 You can look at your backyard and get so many ideas about what to put in it. You want something that draws you and your friends to your house after school or work, or just during weekends and holidays. The one thing that is guaranteed to give you this amount of satisfaction is a hot tub. Who doesn't want to soak in a comfortable hot tub, complete with features like hydrotherapy? If you have a larger family or the type of household that is always entertaining guests, you may want to opt for a larger hot tub.
In this article, we're going to take a look at some of the best six-person hot tubs.
What Are the Best Hot Tubs to Consider for Sharing?
If you want to enjoy a hot tub massage with a friend or a couple, you may want to pass on the 2-person hot tubs and focus on the larger models instead. Although there is nothing wrong with a modest two-to-three person hot tub, there will be a capacity limitation.
Instead, we recommend taking a look at the 4-5, 5-6, or 6+ person hot tubs for sale at our spa store. These spas will allow you a maximum of anywhere from four to seven people.
Which Are The 6-Person Hot Tubs to Consider?
It is important to go for quality and the best products when choosing a hot water tub. The most common 6-person hot tub to consider is the Kingston™ model. It can sit up to six or seven people. It also has 57 jets that can help heal your body with soothing hydrotherapy. This allows for increased water movement at higher than normal speeds. This means that everyone in the tub gets to enjoy every minute of their time inside.
The other common spa is the Odessa™ model. It sits six to seven people and has 37 jets. It has a lot of movement stage and runs deep. Other fantastic models include the Aspen®, Maxxus™, Optima®, Chelsee®, Hamilton™, Edison®, and the McKinley®.
All these are great choices and we believe any homeowner would be greatly satisfied with whichever one they choose.
Best 6-person Hot tubs At Backyard in Style
Do you already have the perfect idea of what to put in your backyard? If it's a hot tub, you've come to the right place! Backyards in Style has a huge selection of hot tubs for sale for you to choose from. From roomy 6-person hot tubs to modest 2-seaters and everything in between. Take a look at our blog to learn more or visit us in person today.