How Much Do Swim Spas Cost in 2021?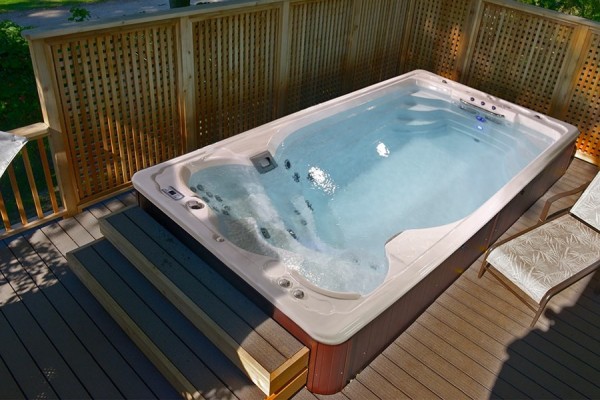 There's a whole lot to love about swim spas. Not only do they combine the best that a traditional swimming pool and hot tub have to offer, but the technology also ensures a premium fitness and relaxation experience. With everything swim spas have to offer, deciding to purchase one is practically a no-brainer. The hard part is deciding which brand, style and model to choose. With so many different choices out there, it's easy to feel overwhelmed.
That's why we've created a swim spa checklist of sorts not only to help explain the options that are available, but to help you decide what type of swim spa is right for you. But first, let's take a closer look at how much swim spas cost and why.
How Much Do Swim Spas Cost?
Swim spas run anywhere from $10,000 all the way up to $50,000.
While you can purchase a swim spa from overseas for around $10,000, ordering from a random supplier online could leave you in hot water — pun intended. If you decide to buy a swim spa at the lower end of the price range, you can expect a generic model made with shoddy parts and no warranty.
To ensure you don't end up with a lemon, here is what to look for:
Entry Model Range
$18,000 - $22,000
An entry model spa at a reputable dealership starts at $18,000. It might seem like a lot more money than ordering from overseas, but that extra $8,000 buys you a high-quality product made with legitimate parts - not to mention peace of mind, thanks to a good warranty.
Cost is kept down, not by scrimping on quality, but by reducing size, offering fewer jets and eliminating upgraded features.
Standard Model Range
$23,000 - $27,000
These swim spas offer you great bang for your buck. While smaller than the premium and luxury models, they boast high quality manufacturing and parts and a robust warranty.
There will be more options and upgrades available at this price range compared to the entry models, but they will not come with any premium options.
Made with comfort in mind, these swim spas always get the job done.
Premium Model Range
$28,000 - $35,000
The main difference between premium spas and their higher-priced peers is size.
Premium spas tend to be around 17 to 18 feet in length and offer comfortable seating and lots of room for exercise. You'll also find more jets compared to lower-priced spas and additional features like customizable controls and ergonomically designed seats to fit your body's natural curves.
Luxury Model Range
$35,000+
Luxury models are like the Mercedes of swim spas. They are larger, more streamlined and come with the most add-on features and options such as lighting or Bluetooth stereo.
Ranging from 17 feet up to 19 or even 21 feet, luxury spas offer a natural swim current that's just as relaxing as swimming in nature. The spa with jetted seats is often separated from the exercise area so both portions of the spa can be used and enjoyed at the same time.
Brands to Consider
If you're ready to make swim spa ownership a reality, you can't do better than the SwimLife or Catalina brands. Let's take a quick look at what they have to offer.
SwimLife
Known for its SwimFit swim technology, the SwimLife brand offers a current that allows you to adjust both water flow and intensity.
The AquaFlex jets' oval design flattens the water for a smoother swim while the design of the shell offers the largest unobstructed swim tank in the industry. Ergonomically-designed seats offer head-to-toe massage for a superior hydrotherapy experience.
Catalina
One of the largest swim spa manufacturers in the world, Catalina Swim Spas are known for their innovative products. Combining cutting-edge technology with high-quality fitness features, these spas are available in a wide range of prices and sizes and offer a number of add-on features to ensure you receive the best possible experience. Make sure to check out some of our Catalina Swim Spas such as AquaStream Swimfit, the DualStream SwimExpert, and the SwimFun.
Backyards in Style
Finding the right swim spa at the right price point may take a bit of work. But, by matching up the features and style you are looking for with your price point, you can easily narrow down your choices. Choosing a reputable dealer like Backyards in Style is also key to long-term satisfaction with your purchase. Visit our showroom to see what we have in stock or to speak with one of our experts. We are always on hand to answer questions and help you find the unit that is right for you.